An Internet and New Media professor is now creating a noise online after requiring his students to add many friends as possible in WeChat, most famous messaging application in China.
The said university professor has divided opinion after setting his students an assignment to add as many friends as possible in WeChat.
Those enrolled on the Internet and New Media course at Henan University of Economics and Law in Central China's Henan Province, have been set the task as part of a social media management module.
According to the students, they need to add at least 1,000 new WeChat friends to pass the assignment, which accounts for 30% of their final grade.
WeChat is the equivalent to WhatsApp in China – and with more than one billion monthly users – it is the country's most popular social media platform.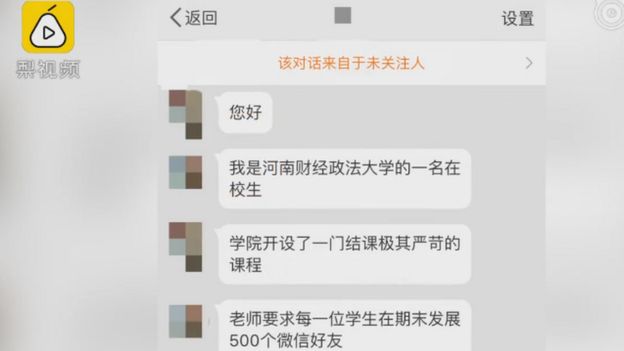 Students from the university began contacting Chinese media about the assignment, with one messaging Pear Video to inform them of the "extremely demanding course".

"I've had WeChat for many years and only have some 100 friends [crying emoji]. Everyone is a nervous wreck," an anonymous student said.

In response, a teacher at the university said: "The class majors in new and online media, this class is a core module, what we're saying is that afterwards, when these students go looking for work, they will have the basic skills for this type of social media operation."

The hashtag #GradedOnNumberOfWeChatFriends has since been used more than 23,000 times on Weibo – but opinion is divided on whether the assignment is useful or not.

<!-comments-button-->