Kumbh Mela is huge festival attended by millions of Indiana and other nationals to foster religious belief.
Millions of people have taken to the waters at the confluence of India's sacred Ganges and Yamuna rivers as part of the Kumbh Mela festival – humanity's largest gathering.
Officials and organizers said some 15 million people bathed on Tuesday. They expect about 120 million visitors over 49 days of the whole duration of the festival, which considered as the largest festival in the world.
Hindus believe bathing at the rivers will cleanse their sins and bring salvation. 
The holy men were among the first procession to arrive early Tuesday.
In fact, Sadhus – or ascetics – smeared ash on their bodies as they came out of the water and chanted "Har Har Gange", or "Mother Ganges", and danced while posing for photographers.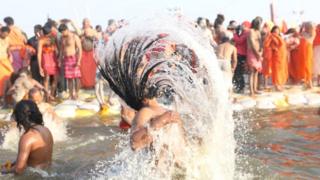 Furthermore, the Naga sadhus are the biggest draw of the festival – held in the northern city of Allahabad, recently renamed Prayagraj – and arrived early in the morning in massive colourful processions. 

Thousands of the Sadhus – naked and wearing marigold garlands around their necks – were escorted by police to the river as they chanted slogans invoking Shiva, the Hindu god of destruction. Many were waving tridents and swords.

At the last Kumbh in 2013, female ascetics were allowed to bathe at the confluence of the rivers – known as the Sangam – for the first time. A few hundred transgender people were among those who bathed on Tuesday morning.

<!-comments-button-->