North Korean leader Kim Jong-un has said he would take part in a third summit with Donald Trump – but only if the US brought the "right attitude".
The statement of the North Korean leader was aired by the country's state media.
He urged President Trump to pursue a deal that was "mutually acceptable." In response the president tweeted praise of Mr Kim and welcomed the idea of a new summit.
The two leaders first met in Singapore last year. However, a second summit in Hanoi in February broke down.
The American leader said then North Korean officials had wanted economic sanctions lifted in their entirety in exchange for disabling a major nuclear site, provoking him to walk away.
However, the North Koreans disputed the US account.
In his most recent comments, Kim said in a speech that the summit had created a "strong doubt" in him over whether the US genuinely wanted to improve relations.
"We are willing to give another try if the US offers to have a third summit with the right attitude and mutually acceptable terms," the leader added.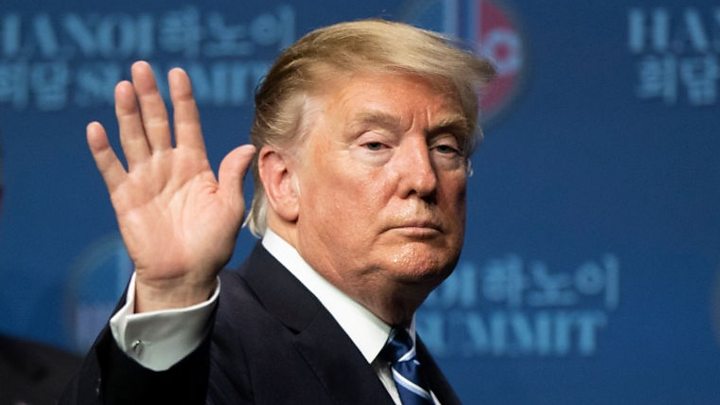 Kim did, however, add that his personal ties with Trump remained "excellent".
The North Korean leader said he would give the US until the end of the year to make a "courageous decision" over any new summit plans.
Trump also react to what Kim's said via Twitter post below:
I agree with Kim Jong Un of North Korea that our personal relationship remains very good, perhaps the term excellent would be even more accurate, and that a third Summit would be good in that we fully understand where we each stand. North Korea has tremendous potential for…….— Donald J. Trump (@realDonaldTrump) April 13, 2019
….extraordinary growth, economic success and riches under the leadership of Chairman Kim. I look forward to the day, which could be soon, when Nuclear Weapons and Sanctions can be removed, and then watching North Korea become one of the most successful nations of the World!— Donald J. Trump (@realDonaldTrump) April 13, 2019
<!-comments-button-->