The President Donald Trump's administration is working to designate the Muslim Brotherhood a foreign terrorist organisation, the White House said on Tuesday.
The designation will bring economic and travel sanctions against Egypt's oldest Islamist movement, with more than a million members across the Middle East. 
The decision follows a White House visit by Egyptian President Abdel Fattah al-Sisi in April.
President Sisi asked US President Donald Trump to make the move, US media said.
White House Press Secretary Sarah Sanders confirmed the administration is pushing for the designation.
"The President has consulted with his national security team and leaders in the region who share his concern, and this designation is working its way through the internal process," Sec. Sanders said in a statement.
As per US media, the Trump administration first directed security and diplomatic officials to find a way to impose sanctions on the Brotherhood after a meeting between Trump and Mr Sisi on 9 April.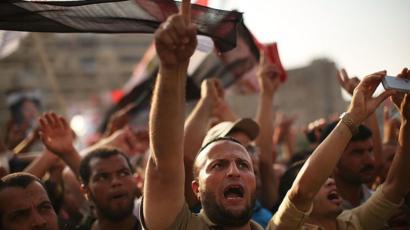 Meanwhile, Egypt already describes the Muslim Brotherhood as terrorists. President Sisi overthrew President Mohammed Morsi in 2013, a former Brotherhood leader. 

Once the US designation is announced, sanctions on companies and individuals who interact with the group will come into effect.

In a statement on its website, the Muslim Brotherhood said it would remain committed to its work, regardless of the White House's decision.

"We will remain … steadfast in our work in accordance with our moderate and peaceful thinking and what we believe to be right, for honest and constructive cooperation to serve the communities in which we live, and humanity as a whole," said the statement.

The decision has caused a rift between White House officials and Pentagon staff, says unconfirmed report from NYT.

<!-comments-button-->