Just this week, an Instagram account which posted comic strips depicting the struggles of gay Muslims in Indonesia vanished from the social media site.
Indonesia's communications ministry was quick to claim credit, saying it had asked Instagram to take the account down because it contained "pornographic content", says local report.
Meanwhile, Instagram later denied this claim, saying it had not removed the account.
The Instagram account – under the username @Alpantuni – featured comic strips that showed the abuse and discrimination faced by a gay Muslim character.
As of posting, it had almost 6,000 followers.
One comic showed the character being told to "burn in hell" and having faeces thrown at him.
Local media outlets say the communications ministry had threatened to block Instagram if @Alpantuni's account was not removed.
According to BBC Indonesia, the ministry also said the public had "participated in reporting the account… to speed up the takedown process".
In a statement, the social network said it "did not remove this account", adding that there are "a number of other reasons why an account may no longer be accessible, including, for example, if the account holder deleted the account, deactivated the account, or changed the account username."
It also added that it had "reviewed the account against our community guidelines and found that it does not violate our policies."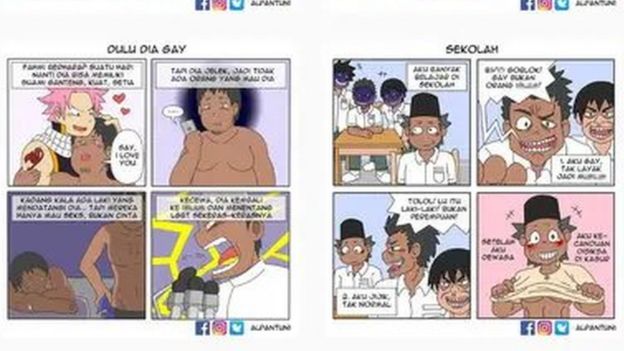 <!-comments-button-->